A sheltering tree

The Snake Goddess

The Parrot

Girl in pain

A budding Leaf

Durga, the mother goddess

Hidden by the burkha

A marble statue

Radha, the beloved of krishna

A vengeful spirit

God

The Clown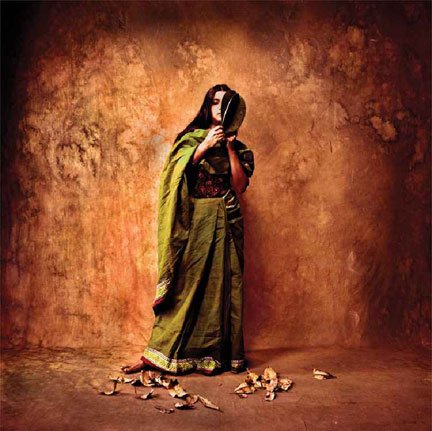 another me team


Ayesha Sinha

Ayesha Sinha was the aesthetic coordinator of the Another Me project, assisting the girls and the photographer in the design, styling and costuming of the transformations. Ayesha has spent many years conducting gender and rights training for a wide range of people, and is presently facilitating self defense training for women of different age groups, including the girls of Sanlaap.


Harleen Walia

Harleen Walia is a counsellor, trainer and specialist in child protection. She was programme coordinator of Sanlaap's psychosocial rehabilitation and child protection programmes, and has conducted trainings throughout India for the last 11 years in gender, trafficking, child sexual abuse and similar issues. She is presently a consultant for the United Nations Office on Drugs and Crime in New Delhi, providing training for law enforcement officers and prosecutors in anti-trafficking interventions.


John Frederick
John Frederick is a technical consultant for international organizations in South Asia. He designs research activities in human trafficking, sex work and migration, and assists in the development of strategies and capacity-building activities for governments and local organizations conducting the recovery and social integration of victims of trafficking, domestic violence, armed conflict and sexual abuse. He is the author of Fallen Angels: the Sex Workers of South Asia, among other publications


Joseph Aguettant
Joseph Aguettant is a lawyer specialized in public international law. Presently working as Country Representative of the Terre des hommes Foundation in Nepal. Previously worked with the International Rescue Commitee and UNHCR in Sudan, Chad, Geneva, Thailand and Burma/Myanmar.


Muna Basnyat
Muna Basnyat has been responsible to oversee the anti-trafficking programs implemented by Terre des hommes in Nepal and West Bengal, India, from the year 2005. With her academic qualifications in international studies and experience of working in the non profit sector, she is very much committed and enthused to be a part of anti-trafficking actions in South Asia in the context of contemporary slavery.


Reinhard Fichtl

Reinhard Fichtl has been working as an aid worker for nearly two decades in East Africa and later South Asia. He began as an development worker in Ethiopia in the late 1980's, then working for a reintegration program of ex-combatants of the EPLF in Eritrea in the mid-1990's, then for the next five years as a program coordinator to Zambia to promote the formation of marginalized women networks, and now as a country director of the Terre des hommes Foundation (Lausanne), first in Afghanistan and Nepal, and now in Sri Lanka. As an educational sociologist he prefers to focus on providing opportunities for marginalized people, especially women and children.