A sheltering tree

The Snake Goddess

The Parrot

Girl in pain

A budding Leaf

Durga, the mother goddess

Hidden by the burkha

A marble statue

Radha, the beloved of krishna

A vengeful spirit

God

The Clown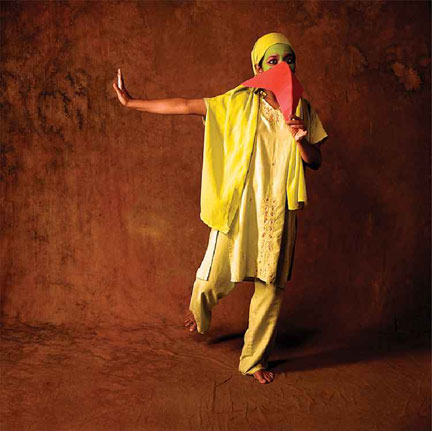 behind the masks


The masked portraits displayed on this website are not mere pieces of artwork. They are not "just" breathtakingly beautiful photos. However mesmerizing and cutting-edge these photographs may be, they should not hide the profound meaning of this innovative project initiated by Terre des hommes Foundation (see http://www.tdh.ch).

It reflects the philosophy of the then delegate of Terre des hommes Foundation (Tdh) in Nepal, Reinhard Fichtl, who realised that to have impact one must go beyond appearances. As an anti-trafficking activist for Tdh, it was obvious that taking pictures and recording statements was not enough.  An approach was decided upon
that some have described as revolutionary in the anti -trafficking world. Tdh succeeded in bringing together: a cutting-edge NGO in West Bengal, a child counselor, a versatile costume stylist, and probably one of the best photographers in Kolkata. The chemistry in this exceptional team worked and it is still active today.

While browsing through the pages of this website –or of the picture book that is soon to be published-, we urge the viewers to consider the human beings behind the glossy paper; to try to think of the girl behind the make up; to give her back the identity that was stolen from her when she entered the brothel.

To give her back "another me", the person she was, she is or she would like to be.

Far from being a hindrance, the fact that her face is hidden stimulates our imagination. Masks, veils and postiche are the artifacts that help us approach universality - when looking at these portraits, we see our partners, our mothers, sisters --ourselves. Yes, it is us, it is our blood that has been trafficked. It is our daughter who has been lured and forced into sex work.

"Another Me" provides a vivid account of what child - and human trafficking really is. It touches us because we could all be behind these masks. When social roles fade away and masks come down, the crude reality of the world stays behind - a global world in which a child is nothing more than a commodity.


Peter Brey
Secretary General
Terre des hommes Foundation
Lausanne, Switzerland