A sheltering tree

The Snake Goddess

The Parrot

Girl in pain

A budding Leaf

Durga, the mother goddess

Hidden by the burkha

A marble statue

Radha, the beloved of krishna

A vengeful spirit

God

The Clown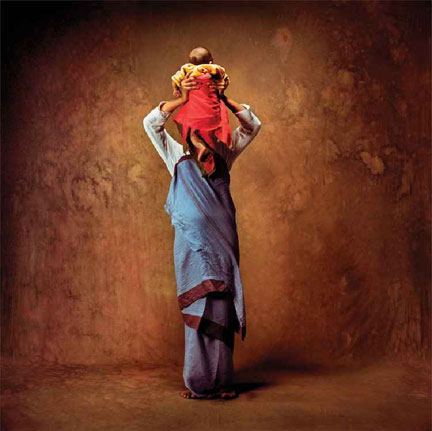 THE STORIES
The girls and women in these photographs
have been in the care of Sanlaap, an
organization based in Kolkata, India. 126
portraits were made by the photographer and
126 case studies were shared with the
counsellor during sessions with each girl. The
girls and women gave their images and stories
gladly, often with a forceful request to 'tell the
world.'

These are not stories of trafficking and
prostitution. These are stories of vulnerability.
They record how a child's fragile web of
protection is torn by domestic violence, the
loss of a parent or an early marriage, and how
that vulnerability is exploited by husbands,
aunts and uncles, neighbours and finally, brothel
owners. The stories take us beyond poverty
as 'the cause of trafficking', for many of the
children had happy, if poor, childhoods. Instead,
we repeatedly see family dysfunction, village
gossip, polygamy and misplaced trust resulting
in a girl's descent into an extremely vulnerable
situation – from which the trafficker easily
harvests her.

Their stories don't dwell upon their lives in
the brothel. Most didn't want to talk about it.
They wanted to tell how they came to it and
what it did to them. These are stories of
resiliency and of collapse. Some of the girls
and women at Sanlaap have incredible power,
struggling, pushing against a society that has
exploited them; some are inert, mute, severely
damaged by the brothel experience.

Many have spent years in the shelter after
their rescue, victims of the law's delay. Others
are in the shelter because they have no safe
place to go. They are too young, or perhaps
mentally or physically challenged, or rejected
by their families because they were
prostitutes…or sought by their families so
that they can be sent back into prostitution.
When they reach 18 and their court cases
end, almost all are free to leave the shelter.
Their stories seldom talk about the future.
For most, it is uncertain and frightening. Their
futures are future stories.