A sheltering tree

The Snake Goddess

The Parrot

Girl in pain

A budding Leaf

Durga, the mother goddess

Hidden by the burkha

A marble statue

Radha, the beloved of krishna

A vengeful spirit

God

The Clown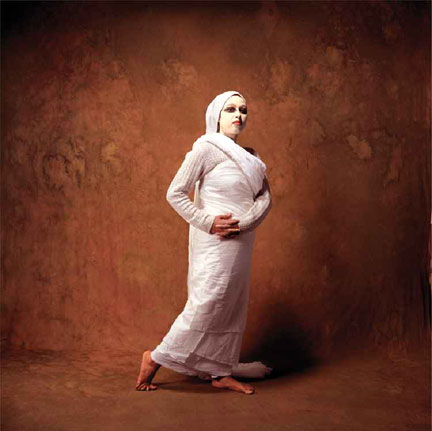 Exhibitions


2010


Women's Day celebration Alliance Française de Delhi, India from 8-10 March 2010


After travelling to many countries, Another Me was exhibited in Delhi as part of Alliance Française de Delhi's International Women's Day celebration on the 8th of March. The exhibition was accompanied by an interactive session which gave voice to four of the portrayed children, who courageously shared their experiences of the healing journey of psychological transformation where they portrayed themselves into their own imaginative characters.
More >
Festival Solidarity, Ahemdabad, India from 6-10 July 2010

'Another Me' was exhibited as part of the Festival Solidarity organized by Alliance Française d'Ahmedabad at Marvel Art Gallery from 6 -10 July 2010. The exhibition was inaugurated by renowned danseuse Mallika Sarabai and visited by many people from different walks of life.
2009


International Conference of consortium project – Brussels, Belgium

'Another Me'- St. Louis University – St. Louis, Missouri, USA

Global Forum for Freedom of Expression – Oslo, Norway

More >

greenbelt_ festival ® Cheltenham Racecourse – UK (28-31 August 2009)
More >

2008


Les Rencontres d'Arles Photographie – France


Rencontres d'Arles, one of the world's major festivals of photography. It is the oldest international photo festival in the world and serves as the model for many of the others, including Houston (FotoFest) and Toronto (Contact). 8th July thru 14th September 2008 in Arles.
More >
Achinto Bhadra at Arles : Another Me – Transformation de la douleur a la force

More >



Bausch Retro Internationales Tanz Festival – Wuppertal, Germany
More >

Phnom Penh Photo – Phnom Penh, Cambodia
'Look at the World' – Pamlpona, Spain

2007


Kathmandu Indigo Gallery – Nepal


The Indigo Gallery was established in 1981 in Kathmandu. The intention was to help foster the Newari painting style of Nepal. For 27 years the gallery has supported young artists who have been reviving the artistry of the medieval period of Newar art, the most celebrated painting form in the history of the culture of Nepal. Indigo Gallery has also become a vital cultural center for the Kathmandu Valley through its series of photographic exhibitions, lectures and slide shows. March 2007.
More >


The Angkor Photography Festival – Cambodia
The Angkor Photography Festival is the first such event to be organized in Southeast Asia. This festival was created in 2005 and the temples of Angkor will become a hub that will draw concerned photographers from across the world. The strong educational goals of the Angkor Photography Festival sets it apart from other photography festivals. The Angkor Photography Festival is built around the free workshops it organizes for emerging Asian photographers. November 2007
More >
'Another Asia'- Noordderlicht Photo Festival – Netherland
2006


Noorderlicht Photofestival 2006 – Netherlands


Another Asia – Photography from South and Southeast Asia. 13th Noorderlicht International Photofestival. 10th September thru 29 October 2006 in Leewarden. Noorderlicht is a multifaceted and international podium for socially inspired photography with a story to tell. It is a place for photographers who explore their world and in their work picture its big events and everyday occurrences, and everything in between.

More >